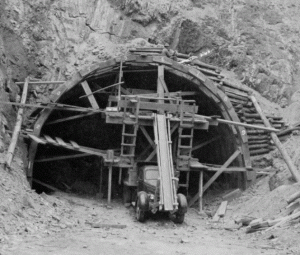 When traveling the Blue Ridge Parkway you will experience many tunnels carved out of the mountains along the parkway. When entering these tunnels please turn on your headlights and watch out for bicycles.There are twenty six tunnels on the Blue Ridge Parkway, but only one in Virginia. This is primarily because the North Carolina mountains are more rugged than those in Virginia. The vehicle tunnels were often constructed to reduce excessive landscape scarring that open cuts in the mountainside would have produced. Most of the work on the tunnel digging was done by hand and provided by the Civilian Conservation Corps in the 1930s. The construction of the tunnels was a costly and hazardous part of building the road.  Parkway tunnels were excavated in the pre-war period using compressed air drills and dynamite.  Little machinery was used with the intention of creating manual labor in depressed economic times.Concrete lining was done during construction and added later due to tunnel cave-ins. This concrete lining was first used in the Devil's Courthouse Tunnel. It was later discovered that it enhanced the interior lighting within the tunnel itself. The concrete lining covered about a quarter of the interior structure and as an additional benefit it helped with the elimination of moisture entering the tunnel.The distinctive stone masonry portals you see when entering the tunnels on the Blue ridge Parkway were not part of the original construction of the 1930s and were added at a later time. Tunnel lengths range from 150 feet at Rough Ridge to 1,434 feet at Pine Mountain.
The Longest Tunnel on the Blue Ridge Parkway
The Pine Mountain Tunnel is the longest on the Parkway at 1,434 feet (437 m). Ferrin Knob Tunnel #1 is the first and longest of the triplet tunnels. The triplet tunnels are named because of the profusion of ferns growing on their backs.

These are listed below by milepost, length, maximum height, and minimum height. If you are traveling the blue ridge parkway driving a large motor home, you may want to take notice of some of these while you are making your plans.
| | | | |
| --- | --- | --- | --- |
| Milepost | Tunnel Name | Maximum Height | Minimum Height |
| 53.1 | Bluff Mountain | 19′ 1″ | 13′ 7″ |
| 333.4 | Little Switzerland | 19′ 8″ | 14′ 4″ |
| 336.8 | Wildacres | 19′ 10″ | 13′ 1″ |
| 344.5 | Twin Tunnel #1 | 21′ 0″ | 16′ 0″ |
| 344.7 | Twin Tunnel #2 | 19′ 7″ | 14′ 7″ |
| 349.0 | Rough Ridge | 21′ 6″ | 13′ 9″ |
| 364.4 | Craggy Pinnacle | 19′ 9″ | 14′ 1″ |
| 365.5 | Craggy Flats | 19′ 5″ | 14′ 4″ |
| 374.4 | Tanbark Ridge | 19′ 5″ | 14′ 1″ |
| 397.1 | Grassy Knob | 19′ 2″ | 13′ 7″ |
| 399.1 | Pine Mountain | 19′ 3″ | 14′ 2″ |
| 400.9 | Ferrin Knob #1 | 19′ 6″ | 14′ 2″ |
| 401.3 | Ferrin Knob #2 | 19′ 2″ | 14′ 0″ |
| 401.5 | Ferrin Knob #3 | 19′ 5″ | 13′ 9″ |
| 403.0 | Young Pisgah Ridge | 19′ 8″ | 14′ 6″ |
| 404.0 | Fork Mountain | 19′ 2″ | 14′ 0″ |
| 406.9 | Little Pisgah | 19′ 5″ | 13′ 10″ |
| 407.3 | Buck Spring | 19′ 2″ | 13′ 3″ |
| 410.1 | Frying Pan | 19′ 9″ | 13′ 8″ |
| 422.1 | Devil's Courthouse | 19′ 0″ | 14′ 2″ |
| 439.7 | Pinnacle Ridge | 19′ 1″ | 13′ 10″ |
| 458.8 | Lickstone Ridge | 18′ 1″ | 11′ 1″ |
| 459.3 | Bunches Bald | 18′ 4″ | 10′ 6″ |
| 461.2 | Big Witch | 18′ 1″ | 11′ 3″ |
|  465.6 | Rattlesnake Mountain | 19′ 6″ | 14′ 5″ |
|  466.2 | Sherrill Cove | 19′ 7″ | 14′ 4″ |
Little Switzerland Tunnel


Wild Acres Tunnel Blue Ridge Parkway

Twin Tunnels Blue Ridge Parkway

Craggy Pinnacle Tunnel Blue Ridge Parkway

Craggy Flats Tunnel Blue Ridge Parkway