Mount Pisgah milepost 408 of the Blue Ridge Parkway
---
Mount Pisgah at 5,721 feet is part of the Blue Ridge Mountains of North Carolina. Located 15 miles southwest of Asheville, near the crossing of the border of Buncombe and Haywood counties. The mountain is easily accessible via a hiking trail from the Blue Ridge Parkway, near the Pisgah Inn and blanketed in wildflowers in the spring or a bursting with orange, yellow and red hues in the fall.
The trail leading to the summit of Mt. Pisgah begins at milepost 407 of the Blue Ridge Parkway at an overlook labeled "Mt. Pisgah Parking" The trail is 1.6 miles long and is of moderate difficulty, where sections near the summit can be rather steep. There is a small observation deck near the TV tower at the summit. The panoramic mountain view is spectacular.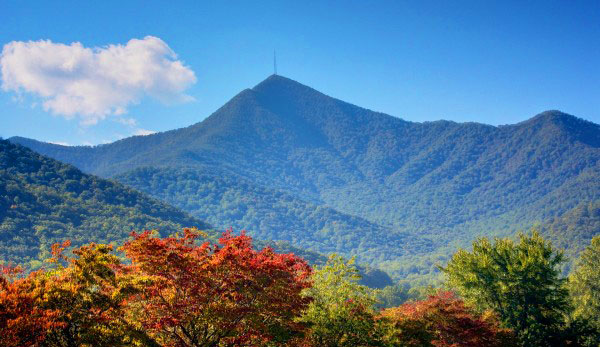 Buck Spring trailhead starts at the Mt. Pisgah Parking area and is a short hike down the Buck Spring Trail. The trail leads visitors to a historic exhibit located at the foundation stone remains of the George Vanderbilt Hunting lodge. In the Mount Pisgah area, the Vanderbilts kept 471 acres (1.9 km²) in Buck Springs Gap, about a mile (2 km) from Pisgah Inn. Here, George W. Vanderbilt had constructed a popular log hunting lodge. The main lodge had four bedrooms, a breezeway-connected building had two bedroom suites, and the kitchen/dining building was connected to the other two. There were several buildings near these buildings. Mr. Vanderbilt built the Buck Springs Lodge just before the turn of the century, and all of the buildings were razed in 1961.
On the east side of the Parkway at milepost 407 is the Mt. Pisgah Picnic Area. The picnic area includes grills, tables and restroom facilities.
The Pisgah Inn Lodge Restaurant and Country Store, as well as the Mt. Pisgah Campground is located at milepost 408 of the Blue Ridge Parkway. Several other trails can be accessed from the campground or the Inn.
---

Mount Pisgah Inn Hiking Trails
Buck Spring
Mount Pisgah
Picnic Area Loop
Frying Pan Mountain Trails
---
Mount Pisgah Campground
Mount Pisgah Campground Map
Mt. Pisgah Campground is located at milepost 408 of the Blue Ridge Parkway. Mount Pisgah Campground has 70 tent & 70 RV sites. The campground is the highest, coolest and most secluded on the Parkway. At an elevation of 4,980 feet, Mount Pisgah offers moderate to cool temperatures during camping seasons. Modern amenities like flush toilets, drinking water and a country store create a comfortable camping experience. Standard sites come with picnic tables and fire rings, perfect for barbecues and marshmallow roasting.
Directions:
GPS Info. (Latitude, Longitude):
35.40278, -82.75667
35°24'10″N, 82°45'24″W
From Interstate 40 west, take exit 47 and turn south onto Highway 191. Then turn south again onto the Blue Ridge Parkway; the campground is on the right, across from Pisgah Inn.
From Waynesville, North Carolina, take Highway 276 for about 22 miles to The Blue Ridge Parkway. Turn north onto the parkway and continue four miles to the campground on the left.
Mailing Address:

MOUNT PISGAH CAMPGROUND
Milepost 408 Blue Ridge Parkway
Canton NC 28716
Phone Number:
Project Office: (828)648-2644
---

Mount Pisgah Inn
For generations, Pisgah has been a popular mountain retreat for travelers. The modern facility includes a balcony and private porches offering an incredible mountain-view of Pisgah National Forest. The dining room serves breakfast, lunch, and dinner. The Pisgah Inn and all its facilities usually open in April and operate through October, for information call (828) 235-8228.
The Mount Pisgah Inn, also known as the "Peak of the Parkway", provides breath-taking views, fine dining in a casual atmosphere, comfortable accommodations, unique area crafts and gifts and an incomparable escape into the mountains of Western North Carolina. We welcome you to come up and visit, walk our trails, enjoy our food, take home some of our treasures and stay a while.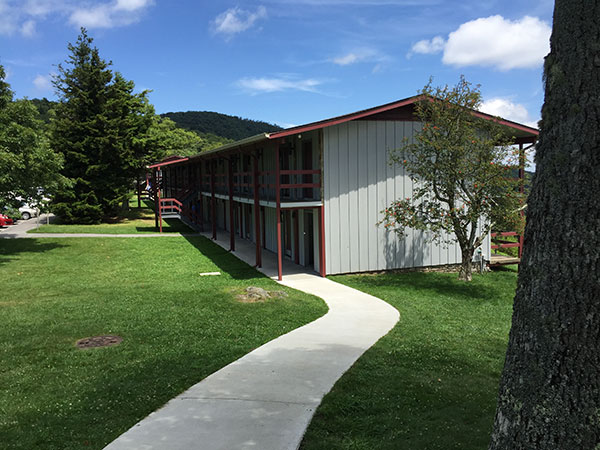 We offer rooms with 1 king bed, 1 queen bed, or with 2 double beds, based on availability. All of our rooms come with your own private porch or balcony with rocking chairs facing our world famous view of the Pisgah National Forest and looking glass rock. Your room has a coffee maker, small refrigerator, and a television with satellite reception with a variety of channels. All of our rooms have brand new furniture this year, and many have been completely remodeled from the ground up. We offer both upstairs and downstairs rooms. ADA accessible rooms are available upon request. Rooms with connecting doors are offered based on availability.
The Pisgah Room is what we consider to be the ultimate in "top of the mountain" accommodations. It is twice the size of a deluxe room. It includes one king size bed, an in-room coffee maker and refrigerator, a huge working fireplace, a living room area around the fireplace and big screen TV. Sliding glass doors lead out to a double balcony overlooking a panoramic mountain view. There is but one Pisgah Suite. It is recommended to reserve it in advance. We accept reservations up to 366 days in advance.
ADA Compliant and Handicap Accessible Rooms are available.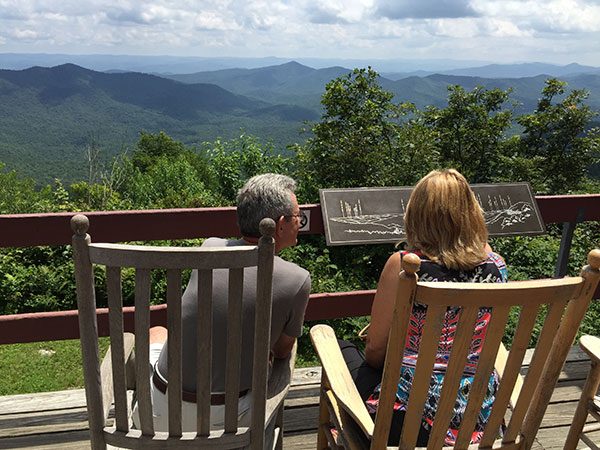 Rates vary. Current rates are available (or call 828 235 8228). All rates are subject to applicable sales taxes. A deposit covering the first night's rental is required within seven days to confirm reservations. Children ages 12 and younger occupying the same room with an adult stay free, otherwise there is an additional charge for each extra occupant. Rollaway beds are available at an additional charge. Check-in time is 3:00 PM. Check-out time is 11:00 AM.
Peak rates are in effect during holiday weekends such as Easter, Memorial Day, Independence Day, and Labor day weekends, and during the busy month of October.
---
Pisgah Inn Early Checkout Fee
Upon check-in, the guest will be asked to confirm their departure date. If the departure date is changed at least 24 hours prior to the original departure date, and the room is re rented, there will be no fee . If the room is not re rented, you will be charged a fee of one-half of the room rate. An early checkout within 24 hours of the original departure date will incur a fee of one-half of the room rate.
Pet Policy
We do not allow pets of any kind in the hotel rooms. Aid or Assistance animals are welcome. Guest whose rooms require additional cleaning due to pets in the room will be charged accordingly and not appreciated.
Late Checkout Charges
Checkout Time is 11:00AM
$20.00 Fee up until 2:00PM
½ days rate 2:00PM-3:00PM
Pisgah Inn offers fine dining and meeting facilities. Our restaurant serves breakfast, lunch and dinner, seven days per week. Our chefs prepare daily specials that will tempt your culinary interests. Guests of the Inn and the public alike enjoy our restaurant. Windows surround the main dining room and overlook a panoramic view. Reservations are not accepted, but if you have a large group, feel free to call ahead for special arrangements.
The Inn also has a room available for reunions, retreats, banquets and meetings. It will accommodate up to 70 people for a "sit down" type dinner. Click on the images below for examples of how we can arrange the room for your event.
---
RESTAURANT SERVES BREAKFAST, LUNCH AND DINNER
7 DAYS PER WEEK.
BREAKFAST 7:30AM-10:30AM
LUNCH 11:30AM-4:00PM
DINNER 5:00PM-9:00PM
OPEN March 30 – October 31 Only!
For More Information Call or visit us online: (828) 235-8228 – www.pisgahinn.com