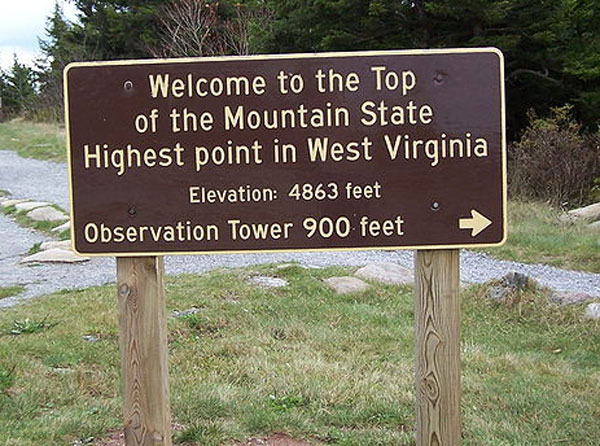 Spruce Knob 4,863 ft; highest peak in West Virginia
Spruce Knob, at 4,863 feet is the highest point in the state of West Virginia and the summit of Spruce Mountain, the highest peak in the Allegheny Mountains. The summit of Spruce Knob has a definite alpine feel, much more so than most other mountains of the Southern Appalachians. The upper few hundred feet are covered in a dense spruce forest, a relic boreal forest environment similar to those found in northern New England and Canada. The summit is accessible both via trails and a paved Forest Service road, and is crowned with a stone lookout tower amid a mixture of boulder fields, meadows and trees.
As is typical in the southern Appalachians, the highest point on a ridge is frequently referred to as a knob or dome. Spruce Knob is the highest point along a ridge known as the Allegheny Front. Dropping steeply to the east, it offers views of the Germany Valley and North Fork Mountain; to the west is the Allegheny Plateau.
Spruce Knob is within the Spruce Knob-Seneca Rocks National Recreation Area, which in turn is part of Monongahela National Forest. Established in 1965, it was the first National Recreation Area designated by the U.S. Forest Service and includes more than 100,000 acres. There are over 75 miles of hiking trails around the mountain and a small 25-acre lake well stocked with trout on the west side of the mountain. Two campgrounds are also on the mountain.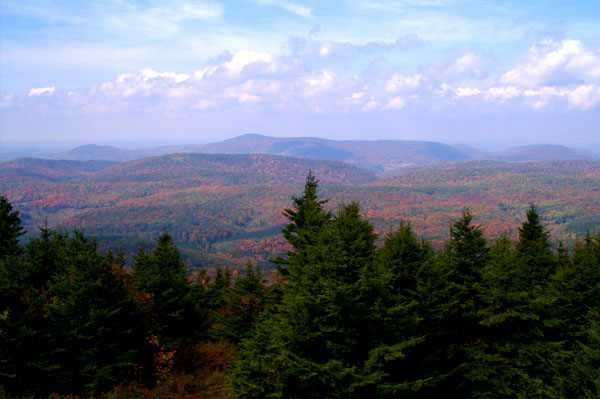 ---
Spruce Knob-Seneca Rocks National Recreation Area
Spruce Knob-Seneca Rocks National Recreation Area is known for some of the best rock climbing on the east coast and home to the highest peak in West Virginia, Spruce Knob. Visitor facilities include the Seneca Rocks Discovery Center, Seneca Shadows and Big Bend campground, and the Spruce Knob Tower. Many thousands of acres of unspoiled quiet land await discovery. Use your imagination to see how the area may have looked to the early settlers, as they crested the mountain ridges or moved up the river. Imagine living a self-sufficient life on a high hillside farm. Envision the Native Americans gathering food on hunting forays. You will discover not only beauty, but a sense of history in the area. [more info]